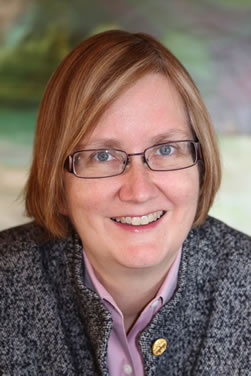 Letter from the Director
Fall 2014
Dear Friend of SFPOA,
I fondly remember January 1996, a month that truly changed my life. I had always loved French Romantic organ music and I played and had performed a lot of wonderful repertoire from that era. During that month, something magical happened. I took my first organ study trip to France and studied these pieces on the historic Cavaillé-Coll organ at St. François de Sales in Lyon with French concert organist and master teacher, Louis Robilliard. In that sacred setting, close to the birthplace of this literature, the sounds and sonorities of the organ and church swept me to a new place. The music came alive in unexpected ways. It was nothing short of a spiritual experience.
Many study trips later, over New Years 2013, I brought three of my accomplished organ students to Lyon and Paris for a short term intensive study trip. Two were in high school, the third an organ student at the Oberlin Conservatory. They each received several hours of private lessons with my favorite French teachers as well as sharing in a Master Class at the historic organ at St. Sulpice and together playing a concert at Notre Dame d'Auteuil in Paris. I saw that same magic come into each of their lives.
We would like to offer more trips to young concert organists so they can understand their pieces in context. We live in an era where jet travel makes transatlantic flight so easy, however, even with a conservative budget, funding these experiences can de daunting, especially to those trying to save for college.
The San Francisco Peninsula Organ Academy has been formed to help these promising young musicians in the form of scholarships to significantly underwrite the cost of these sorts of study trips. We are a non-profit corporation, and any donations you would be able to give are fully tax-deductible.
Thank you for supporting our young organists in their educational quest!
Angela Kraft Cross
www.angelakraftcross.com
Founding Director and President San Francisco Peninsula Organ Academy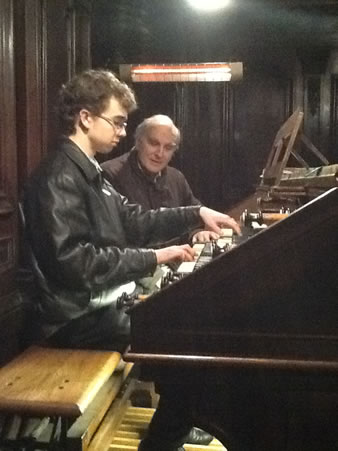 Letter to Sponsors
January 7, 2015
Dear Sponsors,
Learning from such fantastic teachers as Louis Robilliard, Sophie-Véronique Cauchefer-Choplin, and Marie-Louise Langlais has been an experience unequal to anything I've done previously.
Also exciting for me is getting to play all the wonderful pipe organs that France has. Such instruments cannot be found anywhere else in the world, and without hearing and playing them, I cannot fully understand how to interpret the French music I have such a strong desire to learn. Thank you for your support of my studies!
Raymond Hawkins
Letter to Sponsors
January 7, 2015
Dear Sponsors,
We are having such a great time here in France studying organ. The organ in the picture on the included photo is the Cavaillé-Coll organ in l'Eglise Saint François de Sales in Lyon, where the great composer/organist Charles-Marie Widor learned to play organ, and on which he premiered his Fifth Symphonie which includes the famous "Widor Toccata."
In this trip, we played some of his pieces on the huge organ in Saint Sulpice where he played for 64 years, as well as many other pieces by great French composers. We learned so much through our lessons with master French organists in performance, improvisation, etc., and played a concert at Eglise Notre Dame d'Auteuil in Paris. Thank you very much for your donation to the San Francisco Peninsula Organ Academy, which has allowed us the wonderful opportunity of studying organ with the musical descendants of the composers who wrote the music that we have been studying throughout this voyage.
Ethan Haman